Speakers: Diverse, timely, expert perspectives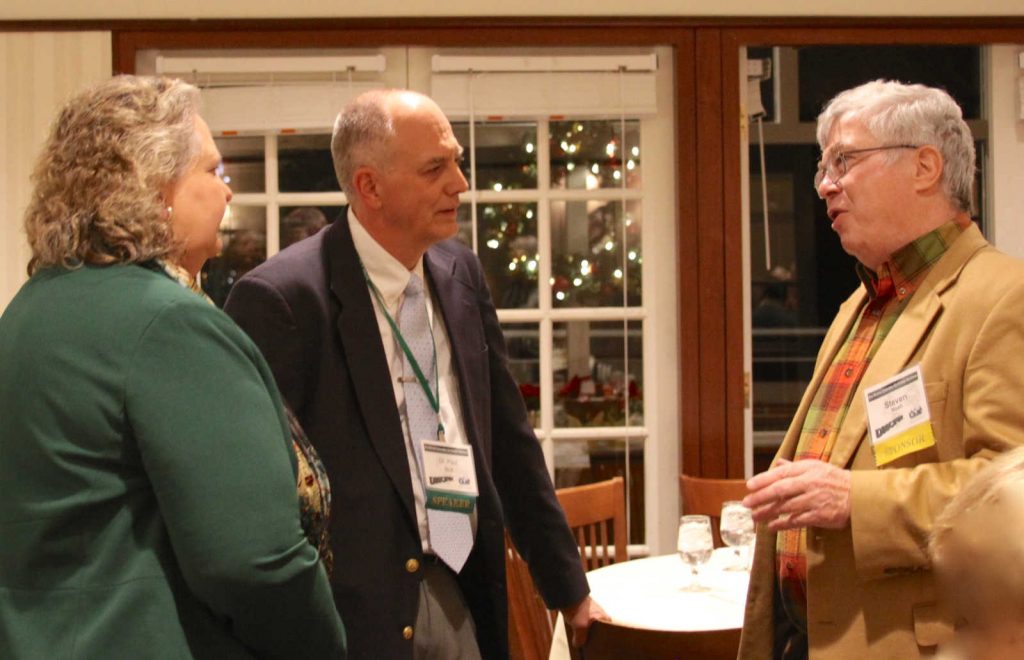 We participate in the ACFR National Speakers Program which provides prominent speakers at the ready edge of responsibility and expertise regarding timely foreign policy issues & events. We have hosted sitting Ambassadors, former Ambassadors, State Department officials, Officers of the military, policy experts & more from foreign relations organizations and consultancies in the nation.
We also feature Iowa based speakers with special expertise and experiences in foreign relations from our congressional representatives, universities, and major news outlets.
At the Committee on Foreign Relations, our monthly meetings are dedicated to advancing discourse of relevant U.S. foreign relations issues and events while supporting our non-partisan, non-profit position.  We provide a high quality personal experience with a unique intimate forum for dialogue and discussion. We support diverse, timely, well-informed perspectives that contribute to understanding concerning foreign relations.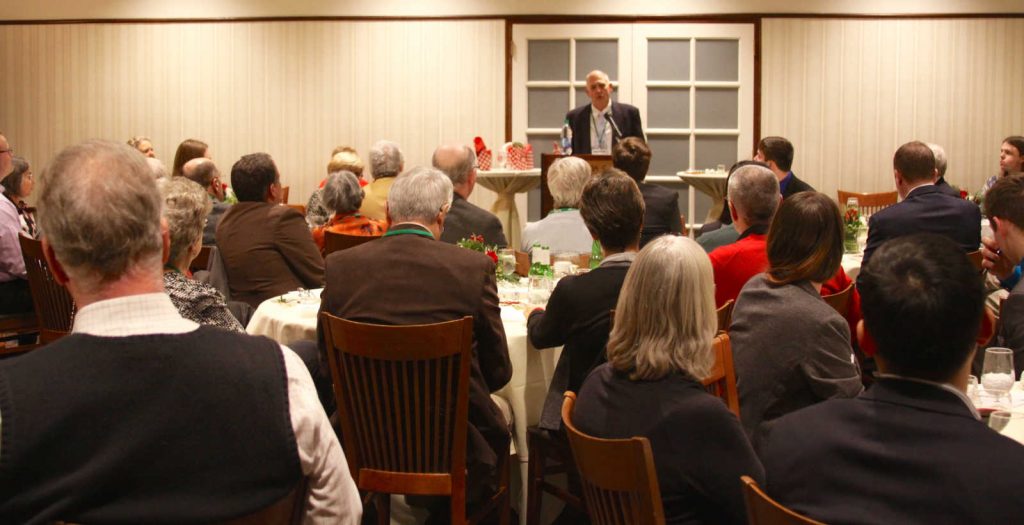 Upcoming Speakers:
Dr. Raphael Cohen
Topic: The Future of Warfare and Its Implications for U.S. Defense Policy
Who will the United States fight against and who will fight with it? Where will these future conflicts be fought? What will future conflicts look like? How will they be fought? And why will the United States go to war? Dr. Raphael Cohen will present the findings of his recently released series of  RAND reports looking at the future of warfare in 2030, and discuss the implications of these findings for future U.S. defense policy and the incoming Biden administration.
Date: January 19th @ 7pm (CDT) *VIRTUAL*
Raphael "Rafi" Cohen is the associate director of the Strategy and Doctrine Program of RAND Project AIR FORCE, and a senior political scientist at the RAND Corporation. He works on a broad range of defense and foreign policy issues, including defense strategy and force planning, Middle East and European security and civil-military relations.
Cohen previously held research fellowships at the Brookings Institution, the American Enterprise Institute and the National Defense University's Center for Complex Operations. He has written for a variety of forums, including the Journal of Strategic Studies, Foreign Affairs, The Washington Quarterly, Orbis, Fox News, War on the Rocks, Lawfare, The National Interest and other publications. He also served as a staffer on the Congressionally-appointed 2018 National Defense Strategy Commission.
A military intelligence branched lieutenant colonel in the Army Reserve, Cohen has held a variety of command and staff positions in both the active and reserve components, including during two combat tours in Iraq from 2005 to 2006 and again from 2007 to 2008. He holds a B.A. magna cum laude in government from Harvard University and an M.A. in security studies and Ph.D. in government from Georgetown University.
Dr. Aparna Pande
Topic: India will be the world's most populous country by 2024 and its third largest economy by 2028. But the size of the population and a sense of historical greatness alone are insufficient to guarantee that India will fulfil its ambition to become a global power. India's approach to realize this vision needs more than just planning for economic growth. It requires a shift in attitudes. This presentation would examine the challenges that India faces in the areas of social, economic, military and foreign policy and strategy. There is a dichotomy that lies at the heart of the nation: India's belief in becoming a global power and the reluctance to implement policies and take actions that would help it achieve that goal.
Date: February 16th @ 6pm (CDT) *VIRTUAL*
Dr. Aparna Pande is Director of the Initiative on the Future of India and South Asia at the Hudson Institute, Washington D.C.  Her major field of interest is South Asia with a special focus on India, Pakistan, Afghanistan, Foreign and Security Policy.
Born in India, Pande received her Bachelor's and Master's degrees in History from St. Stephens College at Delhi University before receiving an M. Phil in International Relations from Jawaharlal Nehru University. She completed her Ph.D. in Political Science at Boston University in the United States. 
Aparna Pande's books include 'Making India Great: The Promise of a Reluctant Global Power' (Harper Collins, 2020), 'From Chanakya to Modi: The Evolution of India's Foreign Policy' (Harper Collins, 2017), 'Explaining Pakistan's Foreign Policy: Escaping India' (Routledge, 2010) and 'Contemporary Handbook on Pakistan' (as editor) (Routledge, 2017).  
Zoom Tutorial:
https://drive.google.com/file/d/1LuQxIFUmqXfcoJvIEDkeMBe6aLeCpRQW/view?usp=sharing
Past Speakers:
Meetings: High Quality Personal Experience
Our meetings are typically held at the Wakonda Club in Des Moines each month from September through May of the following year. Due to concerns with Covid-19 our upcoming meetings will be virtual. Please email events@gdmcfr.org for more information on virtual meetings.
Because we limit the size of the membership and the size of the venue, we provide a unique intimate format for our members…giving the opportunity to meet the speaker, engage in discussion, and gain additional knowledge and information.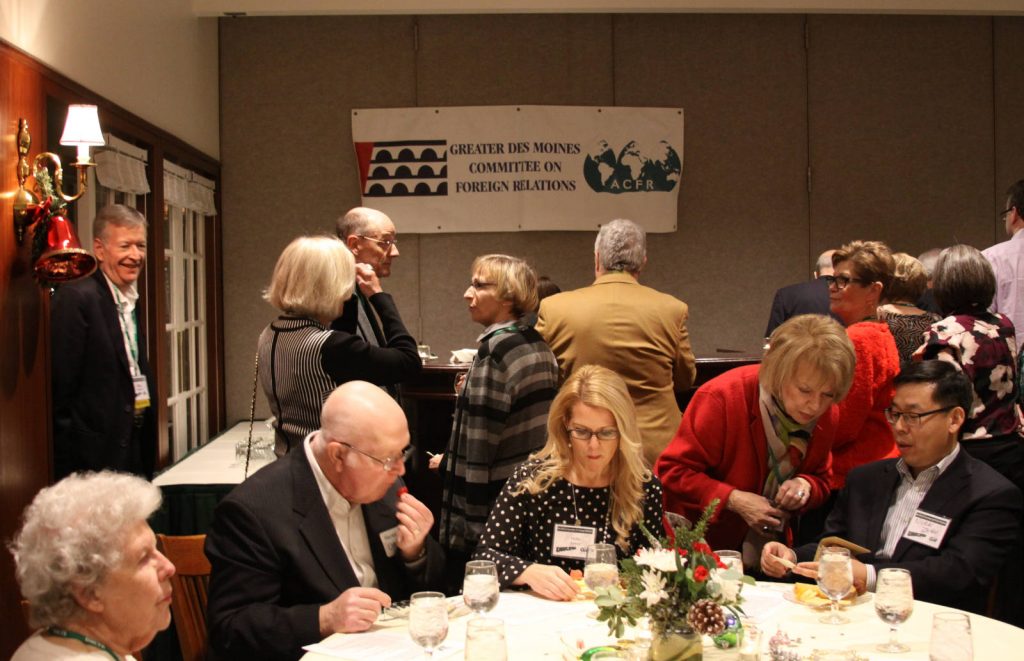 Agenda & Venue
Our meetings are usually held at the Wakonda Club, 3915 Fleur Drive, Des Moines, Iowa. *Meetings are virtual until further notice*
Virtual agenda:
6:00PM Introduction of the speaker
6:05PM Speaker's presentation
6:30PM Q&A
The typical agenda includes:
5:30PM Reception with the speaker
6:15PM Speaker's presentation and Q&A
7:30PM Wrap up and closing comments