Speakers: Diverse, timely, expert perspectives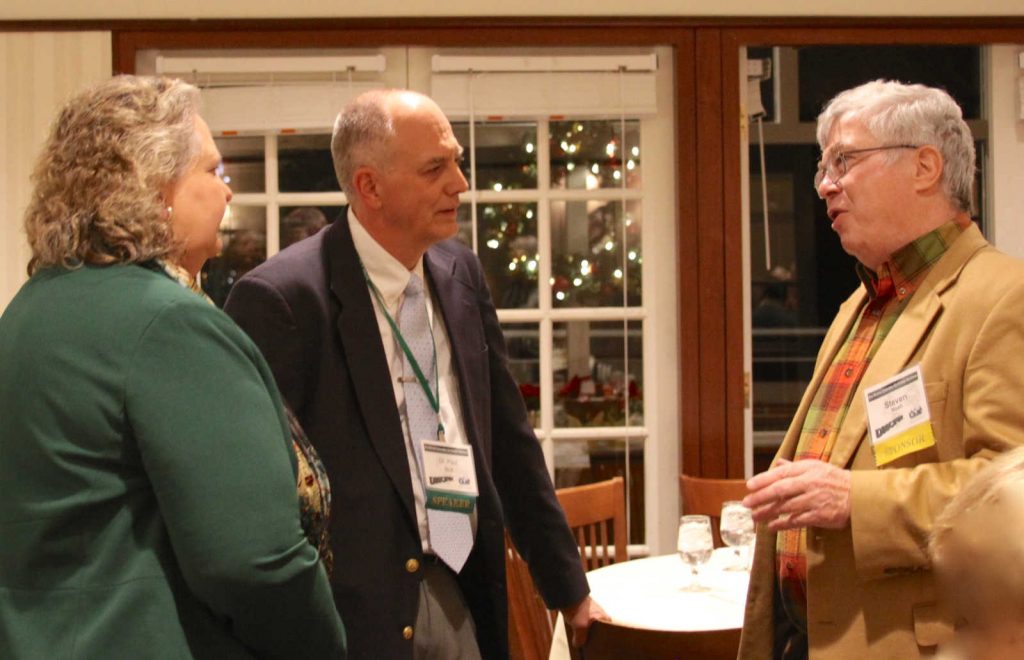 We participate in the ACFR National Speakers Program which provides prominent speakers at the ready edge of responsibility and expertise regarding timely foreign policy issues & events. We have hosted sitting Ambassadors, former Ambassadors, State Department officials, Officers of the military, policy experts & more from foreign relations organizations and consultancies in the nation.
We also feature Iowa based speakers with special expertise and experiences in foreign relations from our congressional representatives, universities, and major news outlets.
At the Committee on Foreign Relations, our monthly meetings are dedicated to advancing discourse of relevant U.S. foreign relations issues and events while supporting our non-partisan, non-profit position.  We provide a high quality personal experience with a unique intimate forum for dialogue and discussion. We support diverse, timely, well-informed perspectives that contribute to understanding concerning foreign relations.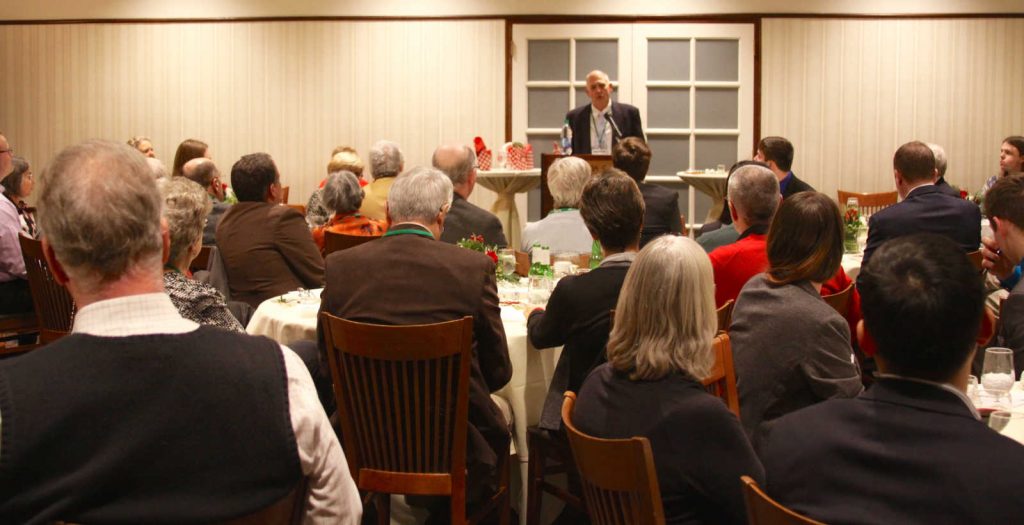 Upcoming Speakers: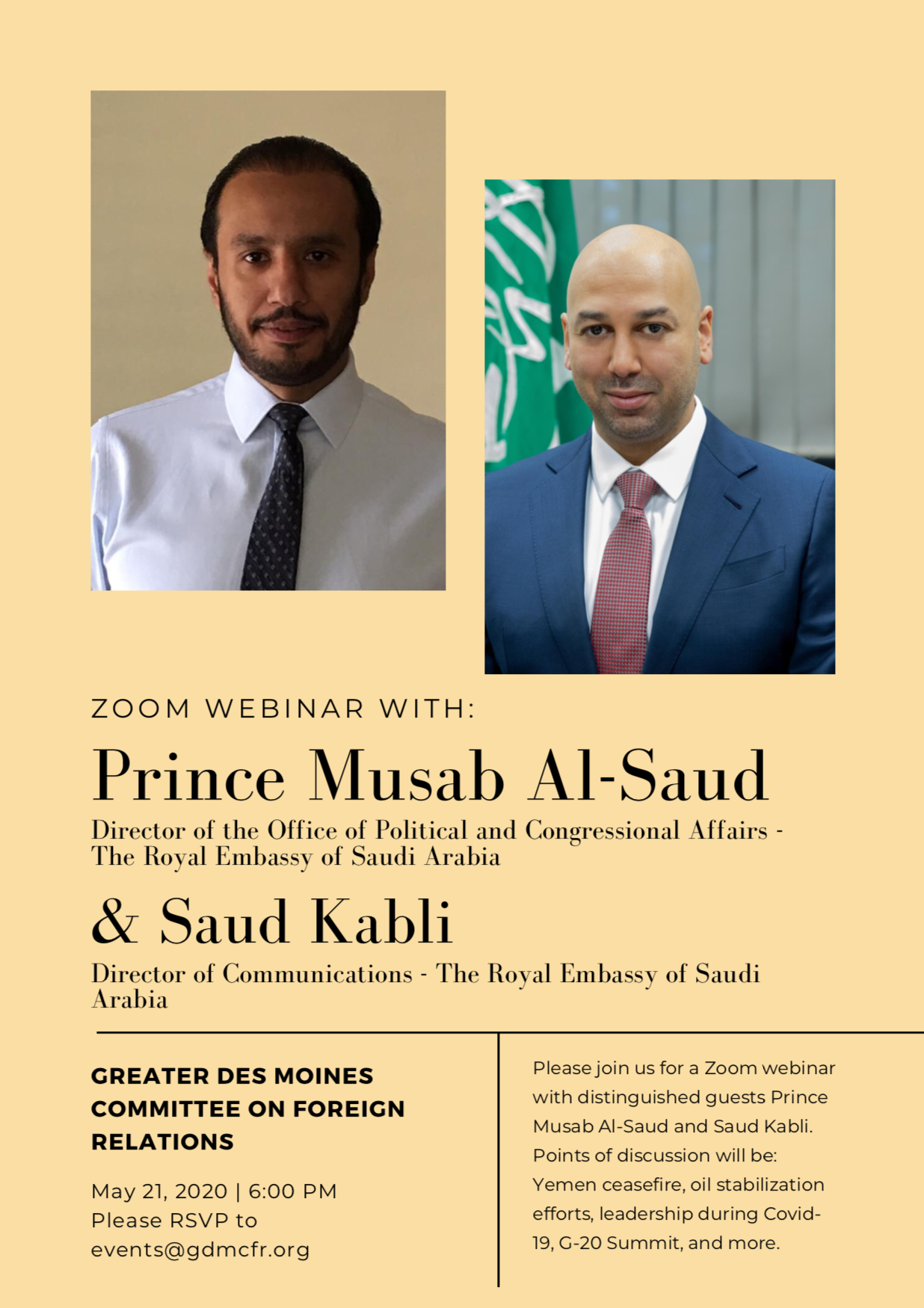 The second webinar of our 2020 Speaker Series will be next week on Thursday, May 21st at 6:00pm. The Greater Des Moines Committee on Foreign Relations has the pleasure to host Prince Musab Al-Saud and Saud Kabli. 
Musab Al-Saud is a career foreign policy professional and civil servant for the Kingdom of Saudi Arabia. As an expert in international affairs, Musab currently serves as the Director of the Political and Congressional Affairs Office at the Royal Embassy of Saudi Arabia in Washington, DC. 
As the senior political advisor to the Saudi Ambassador in Washington, Musab leads a thirteen-person team tasked with ensuring close coordination between Saudi and American policymakers on key political and security issues. This includes direct engagement with senior U.S. officials in Capitol Hill and the Executive Branch on issues such as bilateral relations, security cooperation, and regional politics. In 2018, Musab participated in the planning and the execution of a major humanitarian relief effort in Yemen "the Yemen Comprehensive Humanitarian Operations". He was a member of the first political delegation to visit Yemen since 2015 which was tasked with coordinating and facilitating relief efforts.  
Prior to serving in Washington, Musab served at the Permanent Mission of Saudi Arabia to the United Nations in New York. Before his assignments in the United States, Musab worked at the Saudi Ministry of Foreign Affairs in Riyadh. Through his previous assignment in the Human Rights Department, Musab worked to promote constructive dialogue with international human rights organizations. Before joining the Saudi Foreign Service in 2012, he worked as a lecturer in the Political Science Department at King Saud University in Riyadh, Saudi Arabia.
Musab holds a BA in Political Science from King Saud University and an MA in International Security from American University in Washington, DC
Our second guest, Saud Kabli, currently serves as the Director of Communications at the Royal Embassy of Saudi Arabia in Washington, DC, where he is responsible for communications and diplomatic work building stronger relations between the Kingdom of Saudi Arabia and the United States. 
As one of his roles at the Embassy, he previously served as Chief of Staff to current Minister of Foreign Affairs Prince Faisal bin Farhan during his time in Washington as Senior Adviser in the Embassy.
Prior to serving in Washington, Saud spent a year working in the Media Department at the Ministry of Foreign Affairs in Riyadh, where he was responsible for the department strategic transformation into the Public Diplomacy Division.
He was responsible for establishing relations with the Egyptian political and media communities, and with the Egyptian political parties after the 2011 revolution as part of his five years of service as the Head of Political Section, and then Head of Media Section at the Embassy of Saudi Arabia in Cairo, Egypt.
Before joining the Saudi Foreign Service, he worked as a Desk Officer for the Secretary General of the League of Arab States, as a journalist, and briefly before that he worked in the Saudi private sector.
Saud holds an MA in Public Policy and Administration and a BA in Political Science from The American University in Cairo.
Please RSVP to events@gdmcfr.org for the Zoom link and password.
Past Speakers:
Meetings: High Quality Personal Experience
Our meetings are held at the Wakonda Club in Des Moines each month from September through May of the following year. Because we limit the size of the membership and the size of the venue, we provide a unique intimate format for our members…giving the opportunity to meet the speaker, engage in discussion, and gain additional knowledge and information.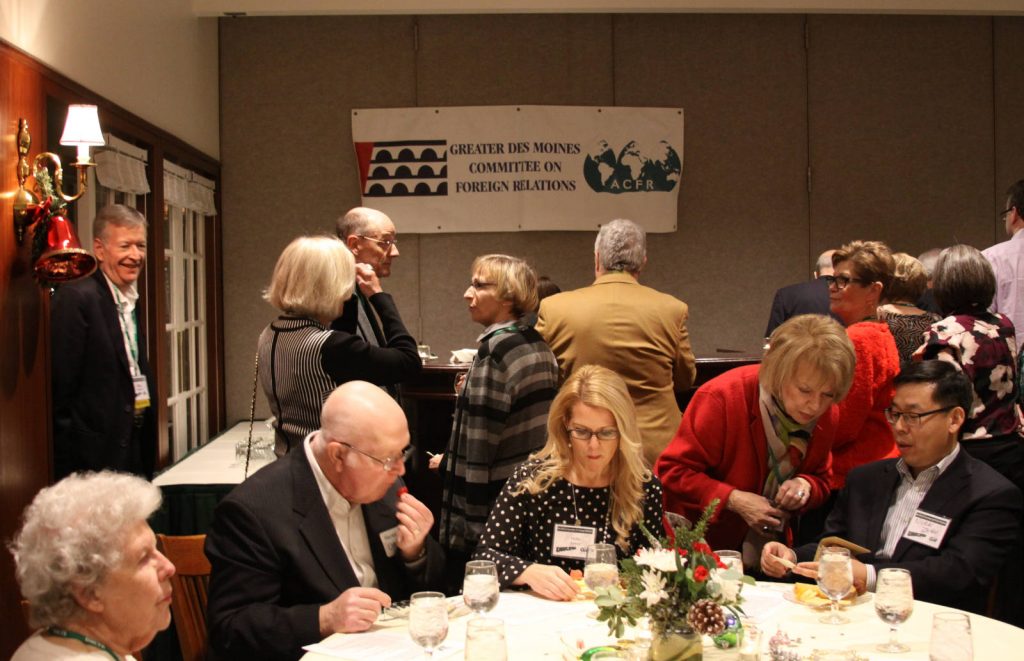 Agenda & Venue
Our meetings are usually held at the Wakonda Club, 3915 Fleur Drive, Des Moines,  Iowa.
The typical agenda includes:
5:30PM Reception with the speaker
6:15PM Speaker's presentation and Q&A
7:30PM Wrap up and closing comments