Speakers: Diverse, timely, expert perspectives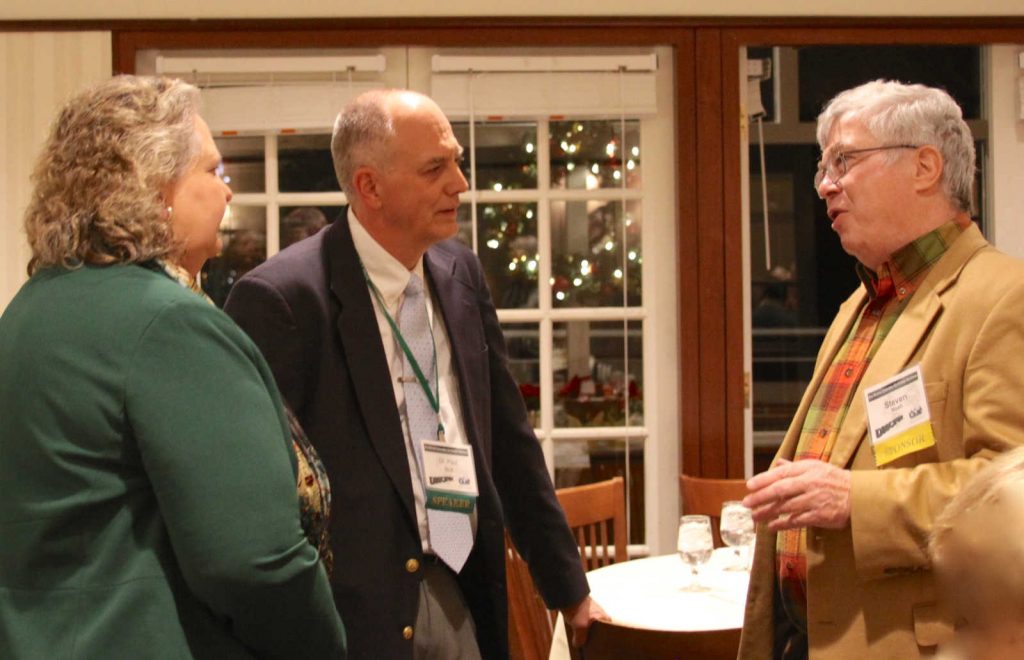 We participate in the ACFR National Speakers Program which provides prominent speakers at the ready edge of responsibility and expertise regarding timely foreign policy issues & events. We have hosted sitting Ambassadors, former Ambassadors, State Department officials, Officers of the military, policy experts & more from foreign relations organizations and consultancies in the nation.
We also feature Iowa based speakers with special expertise and experiences in foreign relations from our congressional representatives, universities, and major news outlets.
At the Committee on Foreign Relations, our monthly meetings are dedicated to advancing discourse of relevant U.S. foreign relations issues and events while supporting our non-partisan, non-profit position.  We provide a high quality personal experience with a unique intimate forum for dialogue and discussion. We support diverse, timely, well-informed perspectives that contribute to understanding concerning foreign relations.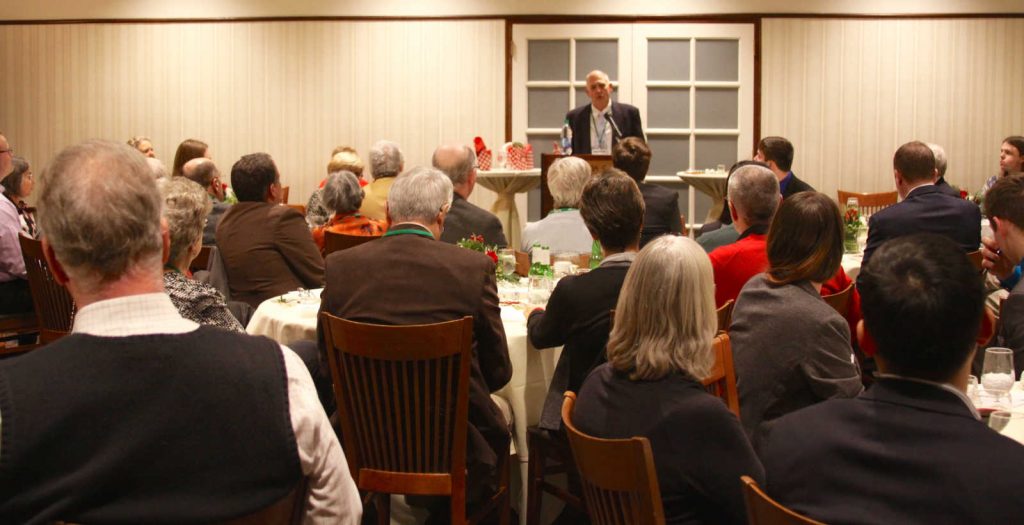 Upcoming Speakers:
Jennifer Staats
Topic: China – its role and politics, both regionally and globally
Date: October 13th @ 6pm (CDT) *VIRTUAL*
Jennifer Staats is the director of East and Southeast Asia Programs at the U.S. Institute of Peace. She joined USIP in 2016 as the director of the China Program, and she continues to lead USIP's work on China and its impact on peace and security around the world. She also oversees USIP's field office in Myanmar, as well as the Institute's work on Northeast Asia, Southeast Asia, and Oceania.
Dr. Staats previously spent several years working in the Office of the Secretary of Defense, where she concentrated on policy issues related to Asia. At the Pentagon, she led the teams that coordinated the Department of Defense's implementation of the U.S. Rebalance to the Asia-Pacific and developed long-term strategies for the Department. She also served as a director in the Cyber Policy Office and managed the Asian-Pacific Security Affairs portfolio for the Assistant Secretary of Defense for Legislative Affairs. Staats received several awards for her work at DoD, including the Defense Medal for Exceptional Civilian Service.
Before entering government service, Staats was a fellow with the International Security Program at Harvard's Belfer Center and a research assistant with the Preventive Defense Project chaired by Ashton B. Carter and William J. Perry. She has also lived, worked, and studied in both China and Germany.
Staats received her doctoral degree from Harvard University, her master's from Princeton University, and her bachelor's from the University of the South (Sewanee). She has been named a Council on Foreign Relations term member, Fulbright Scholar, NSEP Boren Fellow, Javits Fellow, Rosenthal Fellow, NCAA Postgraduate Scholar, and Public Intellectuals Program Fellow and member of the National Committee on U.S.-China Relations.
Judd Devermont
Topic: Great Power Competition: How does the U.S.' Africa policy measure up to China/Russia
Date: November 10th @ 6pm (CDT) *VIRTUAL*
Judd Devermont is the director of the Africa Program at the Center for Strategic and International Studies (CSIS). Prior to joining CSIS, he served as the national intelligence officer for Africa from 2015 to 2018. In this position, he led the U.S. intelligence community's analytic efforts on sub-Saharan African issues and served as the DNI's personal representative at interagency policy meetings. From 2013 to 2015, he was the Central Intelligence Agency's senior political analyst on sub-Saharan Africa. Mr. Devermont also served as the National Security Council director for Somalia, Nigeria, the Sahel, and the African Union from 2011 to 2013. In this role, he contributed to the U.S. Strategy Toward Sub-Saharan Africa, signed by President Obama in 2012, and managed the process that resulted in U.S. recognition of the Somali government for the first time since 1991. Mr. Devermont spent two years abroad working at the U.S. Embassy in Abuja, Nigeria from 2008 to 2010.
Mr. Devermont is a lecturer at George Washington University's Elliot School of International Affairs where he co-teaches a class on U.S. intelligence analysis on sub-Saharan Africa. He is also a senior adviser at Kupanda Capital, a pan-African investment platform, and at Fraym, a data analytics firm. Mr. Devermont is a frequent commentator in print, on radio, and on television, and he has testified before Congress. He has published articles in a range of journals, such as Foreign Affairs and African Affairs, as well as newspapers and magazines like Bloomberg, the Hill, Lawfare, and Mail & Guardian in South Africa. In addition, Mr. Devermont hosts Into Africa, a biweekly podcast series on African politics and policy. The views expressed in publications authored by Mr. Devermont do not represent those of the U.S. government. Mr. Devermont has lived in South Africa and Cote d'Ivoire, and he has traveled widely across the continent. He has a master's degree in African studies from Yale University and bachelor's degree in history from the University of California, Los Angeles.
Zoom Tutorial:
https://drive.google.com/file/d/1LuQxIFUmqXfcoJvIEDkeMBe6aLeCpRQW/view?usp=sharing
Past Speakers:
Meetings: High Quality Personal Experience
Our meetings are typically held at the Wakonda Club in Des Moines each month from September through May of the following year. Due to concerns with Covid-19 our upcoming meetings will be virtual. Please email events@gdmcfr.org for more information on virtual meetings.
Because we limit the size of the membership and the size of the venue, we provide a unique intimate format for our members…giving the opportunity to meet the speaker, engage in discussion, and gain additional knowledge and information.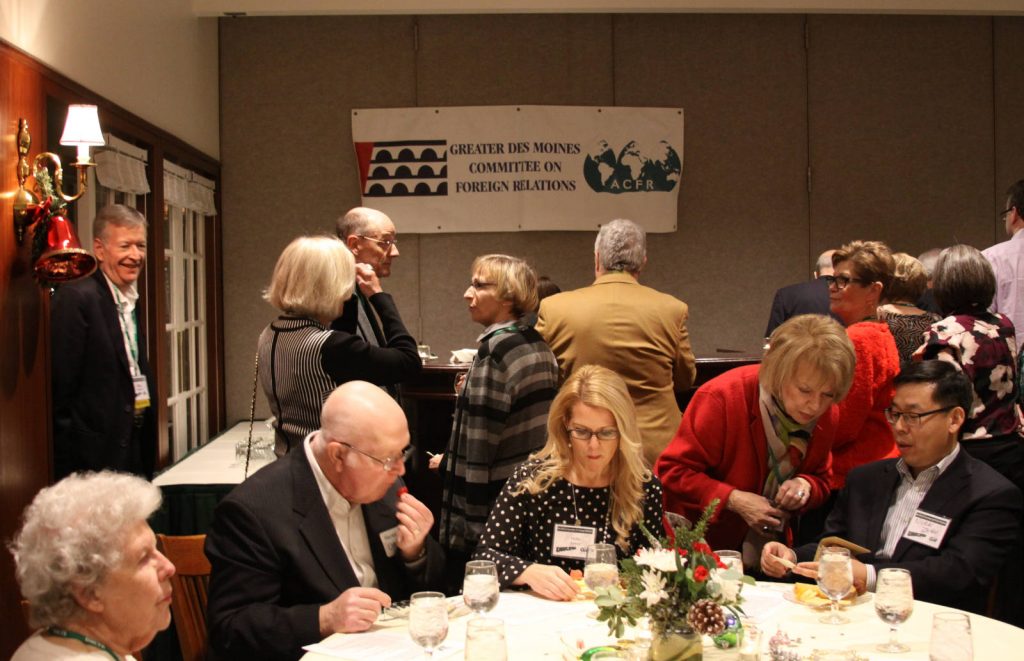 Agenda & Venue
Our meetings are usually held at the Wakonda Club, 3915 Fleur Drive, Des Moines, Iowa. *Meetings are virtual until further notice*
Virtual agenda:
6:00PM Introduction of the speaker
6:05PM Speaker's presentation
6:30PM Q&A
The typical agenda includes:
5:30PM Reception with the speaker
6:15PM Speaker's presentation and Q&A
7:30PM Wrap up and closing comments