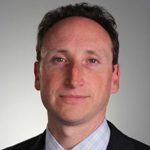 May 30, 2018 – Craig Cohen
Craig Cohen is executive vice president at the Center for Strategic and International Studies (CSIS), a bipartisan think tank in Washington, D.C. In this role, he serves as deputy to the president and CEO, responsible for overseeing and helping to achieve all aspects of the Center's strategic, programmatic, operational, outreach, fundraising, and financial goals, including recruitment of new program directors to CSIS.
Previously, Mr. Cohen served as vice president for research and programs, deputy chief of staff, and fellow in the International Security Program. He has served as editor of two anthologies of CSIS work, Global Forecast 2012 and Global Forecast 2011, as well as director of a project sponsored by the National Intelligence Council that produced the report Capacity and Resolve on foreign assessments of U.S. power. Mr. Cohen co-directed the CSIS Commission on Smart Power in 2007 and authored A Perilous Course: U.S. Strategy and Assistance to Pakistan (CSIS, 2007). Mr. Cohen served as an adjunct professor at Syracuse University's Maxwell School in 2006.
Prior to joining CSIS, he worked with the United Nations and nongovernmental organizations in Rwanda, Azerbaijan, Malawi, and the former Yugoslavia. He received a master's degree from the Fletcher School at Tufts University and an undergraduate degree from Duke University.
April 10, 2018 – Dr. Constanze Stelzenmuller
Constanze Stelzenmüller, an expert on German, European, and transatlantic foreign and security policy and strategy, is the inaugural Robert Bosch senior fellow in the Center on the United States and Europe at Brookings. Prior to working at Brookings, she was a senior transatlantic fellow with the German Marshall Fund of the United States (GMF), where she directed the influential Transatlantic Trends survey program. Her areas of expertise include: transatlantic relations; German foreign policy; NATO; the European Union's foreign, security, and defense policy; international law; and human rights.
Dr. Stelzenmüller is the former director of GMF's Berlin office. From 1994 to 2005, she was an editor for the political section of the German weekly DIE ZEIT, where she had also served as defense and international security editor covering human rights issues and humanitarian crises. From 1988 to 1989, she was a visiting researcher at Harvard Law School. She has also been a GMF campus fellow at Grinnell College in Iowa, a Woodrow Wilson Center public policy scholar in Washington, D.C., and a member of the Remarque Forum. Her writings have appeared in many publications– Foreign Affairs, Internationale Politik, the Financial Times, the International New York Times and Süddeutsche Zeitung. She is also a frequent commentator on American and European radio and television, including Presseclub (ARD), National Public Radio, and the BBC.
Dr. Stelzenmüller is a governor of the Ditchley Foundation and a fellow of the Royal Swedish Society for War Sciences. She has worked in Germany and the United States, and speaks English, French, German, and Spanish. She holds a doctorate in law from the University of Bonn (1992), a master's degree in public administration from the Kennedy School of Government at Harvard University (1988), and a law degree from the University of Bonn (1985).

March 2018 – Dr. Tanvi Madan
Tanvi Madan is a fellow in the Project on International Order and Strategy in the Foreign Policy program at the Brookings Institution, and director of The India Project. Her work explores Indian foreign policy, focusing on India's relations with China and the United States. She also researches the intersection between Indian energy policies and its foreign and security policies.
Previously she was a Harrington doctoral fellow and teaching assistant at the Lyndon B. Johnson School of Public Affairs at the University of Texas at Austin, where she completed a dissertation entitled "With an Eye to the East: The China Factor and the U.S.-India Relationship, 1949-1979." She has also previously been a research analyst at the Brookings Institution.
In addition to a doctorate from the University of Texas at Austin, Ms. Madan has a master degree in international relations from Yale University and a bachelor degree with honors in history from Lady Shri Ram College, New Delhi, India. She has authored publications on India's foreign policy, as well as its energy security policies.
February 2018 – Grant Rumley
Grant Rumley is a research fellow at the Foundation for Defense of Democracies, where he focuses on Palestinian politics. He is the co-author of The Last Palestinian: The Rise and Reign of Mahmoud Abbas, the first English-language biography of the Palestinian leader. Grant has published in leading media outlets including Foreign Affairs, The Atlantic, and Foreign Policy, and contributed commentary to The New York Times, Reuters, and The Wall Street Journal. He is the author of the 2015 FDD report "The Race to Replace Mahmoud Abbas: Understanding and Shaping Palestinian Succession."
Prior to joining FDD, Grant was a visiting fellow at Mitvim, The Israeli Institute for Regional Foreign Policies, where he authored, "Back to Basics: The Evolution of the Palestinian UN Campaign." While in Jerusalem, Grant also founded and edited The Jerusalem Review of Near East Affairs. Previously, Grant served as a consultant in Washington on issues related to counter-terrorism, the Middle East, and war-gaming strategies.
Grant has an MA in Middle East Studies from the Hebrew University of Jerusalem and a BA in International Relations from Michigan State University. In 2010, he studied Arabic at the University of Alexandria, Egypt, and from 2012-2013 was a Rotary Ambassadorial Scholar.

 January 2018 "Iowans in China" – Lynn Hicks, Kyle   Munson, Dr. David Skidmore
Lynn Hicks is the Des Moines Register's opinion and engagement editor, and head of the Editorial Board. Previously, he served as Executive Business Editor for 13 years. He started his career as editor and general manager of Stevens Point Journal in Wisconsin.
A native Iowan, he has been with The Register for more than 20 years. His start in journalism was covering high school sports for the Villisca Review/Stanton Viking weekly— while playing four sports and quoting the coach, who happened to be his father. Lynn enjoys exploring Iowa and the world with my wife, Beth, and my two daughters, Elena and Olivia. He graduated from Drake University in 1991 with journalism and political science degree.
Lynn has been on two fact-finding trips to China in recent years concerning trade, business, and agriculture interests.
Kyle Munson has been a Des Moines Register journalist for 20 years, most recently as the fourth "Iowa columnist" since World War II. Kyle scours all 99 counties in search of Iowa's most colorful stories; his writing blends news, personality, opinion and a sense that there's much more to Iowa than vast cornfields and Grant Wood's American Gothic. Previously, he served as an online editor and before that as Iowa's chief pop music critic, covering the likes of Bono, Paul McCartney and Slipknot. He launched his first features column in 1995 and another in 2002.
Kyle is a fifth-generation Iowan born in Cedar Falls and raised on a farm in Pottawattamie County. His first journalism was published in the "5th Grade News Flash". He earned an English degree from Central College in Pella and London. He now lives in central Iowa with his wife, Ann Sobiech-Munson, and son, Frankie. He is a huge supporter of RAGBRAI. Kyle recently returned from a trip to China centered around the new Ambassador and other Iowa/trade concerns.
David Skidmore received his Ph.D. degree from Stanford University and taught at Hamilton College and the University of Notre Dame before arriving at Drake in 1989. During the 1996-97 academic year, he taught at the Johns Hopkins-Nanjing University Center for Chinese and American Studies in Nanjing, China. In 2010-11, he served as a Fulbright Scholar at the University of Hong Kong. His other travels have taken him to Egypt, Burma, Malaysia, Thailand, Vietnam, Cambodia, England, Mexico, Costa Rica, Argentina, Chile, Jamaica, Nicaragua, Turkey and Brazil.
Skidmore serves as Director of the Principal Center for Global Citizenship and the R.W. and Mary Nelson Institute for Diplomacy and International Affairs, both at Drake University. His research and teaching interests lie in the areas of international political economy, American foreign policy and international relations theory. Skidmore is author, co-author or editor of six books and has contributed to various academic journals and books. David resides in Des Moines with his family and is a member of our Committee.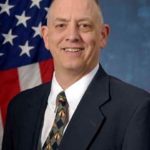 December 2017 – Dr. Sharyl Cross and Dr. Paul Bolt
Dr. Paul Bolt is considered an expert on foreign relations, political science and national security. Currently he is a Professor of political science at the U.S. Air Force Academy. He has taught at Zhejiang University and Baicheng Normal College in the People's Republic of China for over 10 years. In 2009-10 he served as a Visiting Senior Fellow & Fulbright scholar at the School of International Studies, Nanyang Technological University in Singapore. He received his B.A. from Hope College and his Ph.D. from the University of Illinois at Urbana-Champaign. He is author and co-editor of a number of books on Chinese, Russian and South Asian foreign relations.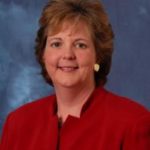 Dr. Sharyl Cross, associated with the Kennan Institute at the Wilson Center. She was appointed Director-Kozmetsky Center at St. Edward's University in 2013. From 2005-2013, Dr. Cross was Professor in the College of International & Security Studies-European Center for Security Studies in Germany. Prior to that, Dr. Cross was at the U.S. Air Force Academy as Distinguished Professor of Political Science. Dr. Cross earned a Ph.D. in Political Science at the University of California & was resident fellowship scholar & consultant at the RAND Corporation. She has published extensively on issues of Russian foreign policy, U.S.-Russian security relations, and South Eastern European security.
Dr. Bolt and Dr. Cross are co-authors of China, Russia, and Twenty First Century Global Geopolitics to be released in early 2018.
October 2017 – Daniel Pearson
Daniel Pearson, US trade expert, very recently left the CATO Institute to establish his own consulting firm. He had been at CATO for several years after serving for 10 years on the U.S. International Trade Commission, the federal agency that, among other responsibilities, oversees the U.S. trade remedy laws. Pearson was nominated to the USITC by President George W. Bush and began his term as a commissioner on October 8, 2003. He served as chairman for the two-year term beginning June 17, 2006 and as vice chairman for the two-year term beginning June 17, 2008. Prior to joining the USITC, Pearson served as assistant vice president of public affairs and as a policy analyst for Cargill from 1987 to 2003. He was agricultural legislative assistant to Sen. Rudy Boschwitz of Minnesota from 1981 to 1987.
Commentaries available:
Trump Would Further Damage U.S. Manufacturing If He Restricts Steel Imports Daniel R. Pearson In Marketwatch
Who Said There Was Anything Fair About Trade? Daniel R. Pearson In The Conservative
Trump Would Further Damage U.S. Manufacturing If He Restricts Steel Imports Marketwatch. June 22, 2017.
Who Said There Was Anything Fair About Trade? The Conservative. May 23, 2017.
No, Mr. President, You Don't Have The 'Better Ideas' On Trade The Hill (Online). May 19, 2017.
November 2017 – Philip C. French
Philip C. French is currently engaged with the US State Department in several roles: Chairperson of the ICASS* working group for the State Department and teaching advanced studies for the State Department in the metro Washington DC area. Phil has been a career Foreign Service Officer with extensive management, analysis, and business advocacy experience in Latin America, the Caribbean, Asia, Europe and the Middle East. He was the former Deputy Chief of Mission, U.S. Embassy, Caracas (2007-08); and former Director, Andean Affairs, U.S. Department of State (2005-07) with previous negotiation/post conflict assignments in the Middle East. He is a skilled political analyst, writer, & speaker. Phil was also the former Executive Director of the American Committees on Foreign Relations (ACFR) in Washington DC for several years–until his State Department responsibilities demanded his full attention in 2015.
Phil is fluent in several languages including Spanish & Tagalog. And is particularly knowledgeable concerning Venezuela…his spouse is from Venezuela and most of her family is still in Venezuela. Primarily, he will provide an up-to-date inside perspective on the current troubling conditions in Venezuela and South America.

September 2017 – Dr. Thomas Wright
Thomas Wright is the director of the Center on the United States and Europe and a senior fellow in the Project on International Order and Strategy at the Brookings Institution. He is also a nonresident fellow at the Lowy Institute for International Policy. Previously, he was executive director of studies at the Chicago Council on Global Affairs, a lecturer at the Harris School of Public Policy at the University of Chicago, and senior researcher for the Princeton Project on National Security.
Wright works on U.S. foreign policy and grand strategy, Donald Trump's worldview, the future of Europe, and Asian security. His book "All Measures Short of War: The Contest For the 21st Century and the Future of American Power" was published by Yale University Press in May 2017.
Wright has a doctorate from Georgetown University, a Master of Philosophy from Cambridge University, and a bachelor's and master's from University College Dublin. He has also held a pre-doctoral fellowship at Harvard University's Belfer Center for Science and International Affairs and a post doctoral fellowship at Princeton University. Wright's writings have appeared in the American Political Science Review, Orbis, Survival, The Washington Quarterly, Financial Times, International Herald Tribune, and The Washington Post, as well as a number of international newspapers and media outlets.